Drinki z wódką - popularne przepisy - TOP 10
Popularne przepisy na drinki z wódką, znaną bazą niejednego alkoholu. Drinki takie jak: Sex on the beach, Cosmopolitan, Blue Lagoon, White Russian, Bloody Mary, Kamikadze, Wściekły Pies.
Baza drinku w postaci wódki jest najpopularniejszą podstawą przepisów i to właśnie z nią znajdziemy najwięcej drinków. Niewątpliwe jest to najpopularniejszy trunek w naszym kraju, jak i we wschodniej Europie, a jej zawartość stężenia alkoholu waha się w okolicach 40%. Przyjęto, że ten popularny trunek często pijemy sam w kieliszku z tzw. "zapojką" czy też "zagryzką". My pokażemy wam inne połączenia drinków z wódką, na bardziej oryginalne podanie. Zaprezentowane w tym artykule przepisy należą do ścisłej TOP 10 drinków z wódką. Drink Paradise Bay dodałem od siebie, jako ciekawy przepis, z którym zachęcam was do zapoznania. Drinki te mają w okolicach 10-12% alk., wyjątkowo Long Island Iced Tea i White Russian mają dużo większe stężenie alkoholu. W linkach prowadzących do przepisów znajdziecie dokładne informacje na temat % alk. i kalorii w każdym przepisie na drink.
Drinki z wódką goszczą na naszych stołach na wszelakich okazjach, od wesel po urodziny, sylwester, a skończywszy na randkach, stąd też zachęcam Was do zapoznania się z tymi najpopularniejszymi. Przepisy w artykule podzielone są dla waszej wygody na drinki słodsze i te mniej słodkie, a nawet kwaśne.
Popularne drinki z wódką, te słodsze
1. Sex on the beach - przepis na najpopularniejszy drink z wódką:
Jeden z ciekawszych smakowo i popularnych drinków z wódką. Możliwy do wykonania w wersji dwu warstwowej na dole sok żurawinowy, a nad nim pomarańczowy, bądź na odwrót. Przepis zawiera nutkę brzoskwini, dzięki użyciu likieru.
2. Blue Lagoon - przepis na popularny błękitny drink:
Przepis na drink przywołuje na myśl krystalicznie czystą wodę Karaibów czy też Hawaii. Na myśl nasuwa się efekt jakby cały ocean mieścił się tu w jednej szklance. Kolor uzyskujemy dzięki użyciu likieru Blue Curacao.
3. White Russian - czyli przepis na drink po rosyjsku:
Drink z wódką w parze z likierem kawowym Kahlua w wersji White dodatkowo dodanym mleczkiem skondensowanym. Choć nie powstał w Rosji jak nazwa wskazuje, jest znacząco mocny i składa się w większej mierze z wódki.
4. Paradise Bay , Rajska Zatoka - przykład drinku warstwowego: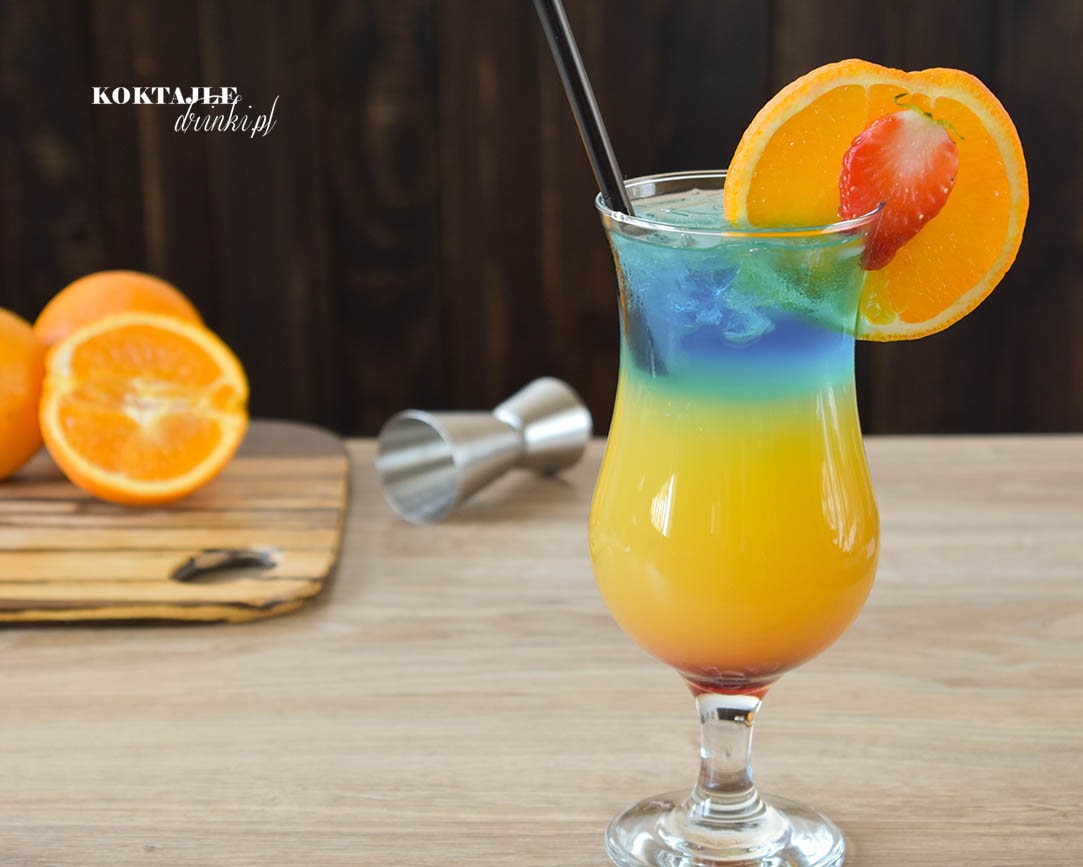 Drink 4-warstwowy (czerwony, pomarańczowy, zielony, błękitny). Egzotyczny i przykuwający wzrok wygląd to nie jedyny atut tego drinku. Smakuje równie dobrze. Przepis z pewnością zaimponuje nie jednej osobie. Co najważniejsze? - Nie jest taki trudny do wykonania!
5. Vodka Sunrise - przepis na drink z efektem wschodzącego słońca:
Drink nawiązujący do wschodu słońca. Efekt uzyskujemy dzięki grenadynie. Przepis na Vodka Sunrise jest na samym dole podlinkowanego przepisu, wykonuję się go tak samo jak oryginał tylko zamiast tequili dodaje się wódki. Przepis zawiera różne modyfikacje takie jak: Tequila Sunrise, Malibu Sunrise, Rum Sunrise, czy też Tequila Sunset i inne.
Popularne drinki z wódką - te z mniejszą ilością słodyczy
6. Cosmopolitan - przepis na kobiecy drink z wódką:
Słodko-kwaśny drink, składający się z wódki cytrynowej w połączeniu z likierem Cointreau. Mieszankę słodko kwaśną daje tu połączenie soku żurawinowego z sokiem z limonki, tworząc orzeźwiający drink.
7. Long Island Iced Tea - popularny miks wielu alkoholi:
Drink na bazie wódki, rumu, tequili, ginu. Po takiej bazie alkoholowej można się spodziewać znaczącej mocy. Natomiast nie jest ona tak wyczuwalna w smaku dzięki ciekawym skomponowaniu wszystkich składników.
8. Bloody Krwawa Mary - przepis na drink na tzw. "kaca"
Najlepszy drink na tzw. skutki dnia następnego. Zamiast zwyczajowego soku owocowego jest tu użyty sok warzywny - pomidorowy. Ciekawa pikantna propozycja, mająca wiele modyfikacji.
Na koniec artykułu proponujemy shoty z wódką
9. Kamikadze - niebieska wódka z cytryną:
Prosty i bardzo popularny shot. Zawiera trzy składniki: wódkę, Blue Curacao oraz sok z cytryny bądź limonki. Przepis ma również wiele modyfikacji.
Wszystkie składniki Niebieskie Kamikadze, Blue Kamikaze są w równych proporcjach. W przypadku większych imprez łatwo jest wcześniej przygotować większą ilość miksu np. w butelce.
10. Wściekły pies - przepis na pikantny shot:
Shot na bazie wódki ze słodką końcówką w postaci syropu malinowego. Pikantności dodaje tu kilka kropel tabasco, przez co alkohol jest znacznie mniej wyczuwalny. Przepis na shot wściekły pies jest bardzo popularny w naszym kraju. Możemy również wypróbować różne bazy alkohole, zastępując wódkę, tequilą, rumem czy spirytusem.